FBI Says It Failed To Act On Tip Warning Of Suspected School Shooter's Potential For Violence
The disclosure came two days after police say Cruz gunned down 17 people, most of them teenagers, at a high school in Parkland, Florida.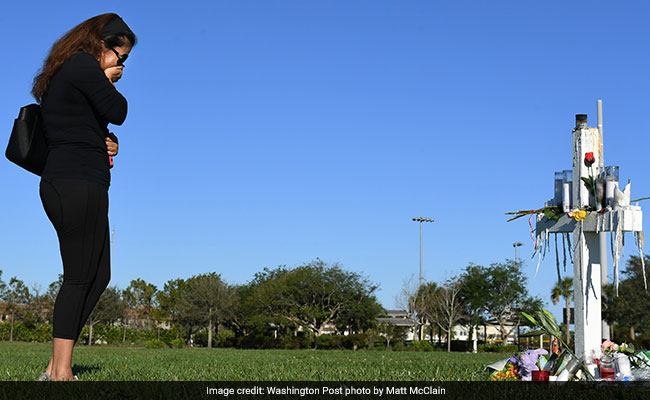 A makeshift memorial in Pine Trails Park for the victims of the Florida School shooting.
PARKLAND, FLORIDA: FBI investigators failed to act on a warning that 19-year-old Nikolas Cruz might attack a school, ignoring a concerned call the bureau received just weeks before Cruz allegedly carried out a shooting rampage at a high school in South Florida on Valentine's Day, the FBI said Friday.
The disclosure came two days after police say Cruz gunned down 17 people, most of them teenagers, at a high school in Parkland, Florida. The FBI - already facing intense scrutiny for its handling of political matters - described a Jan. 5 tip from "a person close to Nikolas Cruz," a tip officials acknowledge should have initiated a response. The caller reported concerns about Cruz's "gun ownership, desire to kill people, erratic behavior, and disturbing social media posts, as well as the potential of him conducting a school shooting," the FBI said in a statement.
Florida Gov. Rick Scott, R, called the FBI's failure to investigate the tip "unacceptable" and urged FBI Director Christopher Wray to resign.
"Seventeen innocent people are dead and acknowledging a mistake isn't going to cut it," Scott said in a statement. "An apology will never bring these 17 Floridians back to life or comfort the families who are in pain."
The country's premier law enforcement agency has come under criticism for its handling of an ominous message posted on YouTube last fall that indicated a user going by the name of "Nikolas Cruz" wanted to be a school shooter. Though they investigated that tip, they didn't connect it to Cruz until after this week's massacre. Authorities in South Florida have been sharply questioned about why they did not act sooner on Cruz's history of unnerving, sometimes violent behavior, including a long line of incidents at local schools he attended.
As funerals began in a community mourning those killed at Marjory Stoneman Douglas High School, and as President Donald Trump arrived Friday night, officials pledged to investigate what went wrong with the tip that arrived six weeks earlier. Even Cruz's attorney, who said he does not doubt his client's guilt, said the rampage could have been prevented had officials acted upon the many red flags in Cruz's life.
"It's one of the most horrific crimes in the history of America," Howard Finkelstein, a public defender in Broward County for the past 40 years, said in an interview before the FBI's statement. "Everybody was on notice. Every system should've been alerted, and not one of the systems did one thing. . . . This should not have happened, and it didn't have to happen."
Attorney General Jeff Sessions said he ordered his deputy attorney general - the No. 2 law enforcement official in the country - to review the bureau's handling of the matter of the mishandled tip.
"It is now clear that the warning signs were there and tips to the FBI were missed," Sessions said in a statement. "We see the tragic consequences of those failures."
The Jan. 5 tip about Cruz came in to the FBI's general call line, where personnel process thousands of calls each day, some of them more serious than others. When the process works, the call taker records information from the tipster, runs basic database checks on the person at issue and - if the matter appears serious enough - passes a package to agents in the field.
The warning about Cruz should have been passed to the local FBI field office in Miami, but "these protocols were not followed" and no further inquiries were made, the bureau said in a statement. A call operator reported it to a supervisor but the warning never made it any further, according to a law enforcement official who asked not to be identified.
The bureau knew the identity of the tipster - an adult - and the tip involved a threat to life, meaning it should have been taken seriously, said a federal law enforcement official.
The tipster did not describe an attack plan with a time and place but did provide specific information on Cruz, including warning signs, two law enforcement officials said. The officials said the bureau is still exploring why the information was not given to agents for investigation. Authorities do not believe call volume was the reason it fell through the cracks.
"We are still investigating the facts," Wray said in the statement. "I am committed to getting to the bottom of what happened in this particular matter, as well as reviewing our processes for responding to information that we receive from the public."
Broward County Sheriff Scott Israel, who is leading the investigation, said he "didn't think anybody could say" the shooting could have been averted if the FBI acted on the tip. Israel said responsibility for the shooting rests with one person: "Make no mistake about it America, the only one to blame for this incident is the killer himself." Israel said at a briefing Friday that he hopes members of the public will continue alerting law enforcement when they see suspicious activity.
But news of the fumbled FBI tip was fueling anger