Boy In Viral Hug Photo And His Family Feared Dead After Their SUV Plunges Off A Cliff
"
There's a lot of unknowns. However, we do know several things. We know that an entire family vanished and perished during this tragedy," Mendocino County Sheriff Tom Allman said during a news conference Wednesday.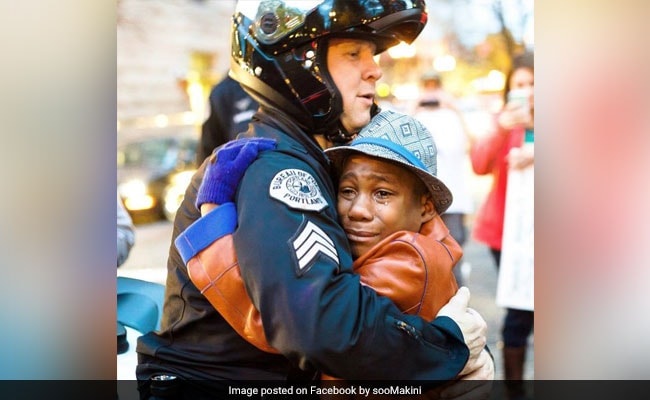 he photograph of Devonte hugging the officer Portland got more than 400,000 likes on Facebook.
Five members of a Washington family were killed after their SUV went off a Pacific Coast Highway cliff and crashed into the rocky ocean, authorities said.
The victims were identified as Jennifer Jean Hart and Sarah Margaret Hart, both 38, and their children Martin, 19, Abigail, 14, and Jeremiah, 14.
Authorities fear that the couple's three other children, Devonte, 15, Hannah, 16, and Sierra, 12, are also dead, saying that they have "every indication to believe" that all six children were in the SUV that crashed off the coast of Northern California near Mendocino, about 150 miles north of San Francisco. Devonte became famous in 2014 when he was photographed sobbing into the arms of a white police officer in Portland, Oregon.
Rescue teams combed the coastline Wednesday in boats and aircraft to find the missing children after ocean conditions improved.
The victims plummeted 100 feet to their deaths after the family's 2003 GMC veered from an ocean overlook off the highway, authorities said in a news release. The SUV landed on its roof atop a jagged rock off the coast, surrounded by crashing waves. The three children killed were found outside the vehicle, according to the California Highway Patrol. The two women were wearing safety restraints, whereas the three children were not.
"There's a lot of unknowns. However, we do know several things. We know that an entire family vanished and perished during this tragedy," Mendocino County Sheriff Tom Allman said during a news conference Wednesday.
Among those unknowns, he said, was the "confusing scene" authorities found when they responded to the overlook Monday, after a passerby spotted the SUV and called 911.
"There were no skid marks. There were no brake marks," Allman said. "There was no indication of why this vehicle traversed approximately over 75 feet off a dirt pullout and went into the Pacific Ocean."
Allman at the news conference said there was no evidence that the fall was intentional. California Highway Patrol officials said they are investigating why the vehicle may have driven off the overlook.
The Harts most recently lived in Woodland, Washington, authorities said. Authorities believe the family had likely planned a short trip to California. When Clark County Sheriff's officials in Washington visited the family's house, they found the Harts had left behind a pet, chickens and most of their belongings, Sgt. Brent Waddell told The Associated Press.
The family had recently been visited by Child Protective Services, Waddell said, although sheriff's officials found no signs of trouble or violence during their visit.
According to court documents, Sarah Hart had pleaded guilty to a domestic assault charge in Minnesota in 2011. Her guilty plea allowed a charge of malicious punishment of a child to be tossed
out.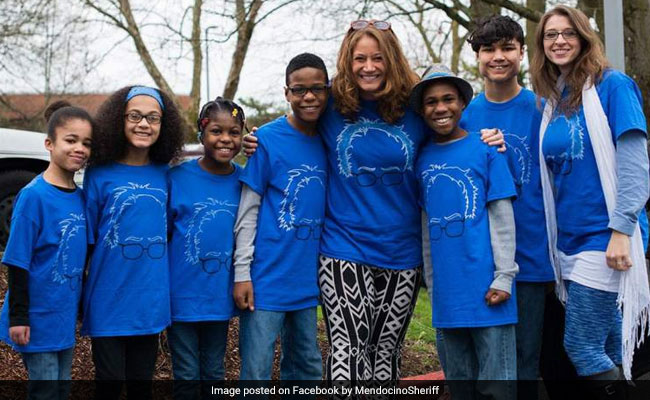 The Hart family appears in this updated photo from the Mendocino County Sheriff's Office.
Mendocino authorities learned from the Portland Police Bureau that the family may have moved to Woodland from their previous home in West Linn, Ore., because of the intense media coverage surrounding Devonte.
Jennifer Hart told the AP that after the grand jury decision not to charge Officer Darren Wilson in the shooting of 18-year-old Michael Brown, the family went downtown "with the intention of spreading love and kindness" by holding signs such as "You Matter" and "Free Hugs." The family then joined the nearby Ferguson, Missouri, rally.
The police officer, Sgt. Bret Barnum, had been helping with crowd control, according to The Washington Post. Jennifer Hart said the boy was trembling, with tears running down his eyes. Barnum noticed Hart looking upset at the rally and motioned for Hart to come over to his motorcycle.
The AP reported: "The officer asked for his name and shook his hand. He also asked Devonte where he went to school (he is home-schooled), what he did this summer (he traveled around the U.S. with his family), and what he likes to do (art). The tears stopped. . . . While continuing to talk to Devonte, he looked at the "Free Hugs" sign on the ground and asked if he might get a hug as well."
The photograph of Devonte hugging the officer at a rally in Portland, where people had gathered to support the protests in Ferguson, got more than 400,000 likes on Facebook and was reposted more than 68,000 times on Tumblr, according to the photographer, Johnny Nguyen. Their embrace was referred to as "the hug felt 'round the world." It "melted millions of hearts," said the Christian Science Monitor.
Some, however, thought it was a misleading representation of race relations.
According to The Post: "Jonathan Jones, writing in The Guardian, went so far as to call it 'a blatant lie. . . . Massively unrepresentative of the wider facts and enthusiastically promoted to iconic status in a way that obscures those facts. . . . Liking this picture as a definitive image of America's race crisis is the equivalent of locking yourself in and turning up the volume to weep at "Frozen" while the streets are burning outside. Which is exactly what white Americans apparently want to do. Truth is a flimsy thing. It can be destroyed by a hug."
The family's former neighbor in West Linn, Bill Groener, told the AP that the siblings were foster children who were home-schooled. They were "friendly enough," he said, but "privacy was a big thing for them."
The children "stayed indoors most of the time, even in really nice weather," he said. The family did not eat sugar, grew their own vegetables and went on camping trips.
"There was enough positive there to kind of counteract the feeling that something maybe wasn't quite right," Groener told the AP.