Once Silent, Stormy Daniels Speaks Loudly With Lawsuit Targeting Trump
Under the agreement, Daniels couldn't even keep a copy of the agreement. The penalty for defying these constraints? One million dollars each time.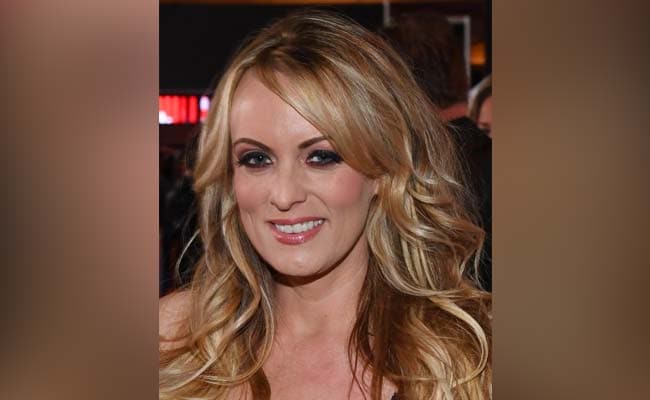 Michael Cohen said in January that Donald Trump denied having had an affair with Stormy Daniels
More than 16 months ago, Stormy Daniels signed a confidentiality agreement that prohibited her from discussing her alleged affair with Donald Trump. Or his business. Or his children. Or his "alleged children."
Under the agreement, Daniels couldn't even keep a copy of the agreement. The penalty for defying these constraints? One million dollars each time.
Now, the porn star is trying to rewrite the script. She hired an aggressive new lawyer, Michael Avenatti, who won a $454 million medical fraud verdict last year, the largest in the state of California in 2017. She took the president of the United States to court, declaring that the "hush agreement" under which she was paid $130,000 is void because it lacks Trump's signature.
Possibly in defiance of a secret gag order, Daniels on Thursday gave a yet-to-be-aired interview to CBS News' "60 Minutes." She spoke with a reporter for a story published by Rolling Stone on Friday under a headline calling her "the Hero America Needs." She's lately been sassy on Twitter, mocking critics and correcting their misspellings.
With each new headline, her marketability surges.
"Look how Stormy is controlling the narrative now," said Karen Tynan, a lawyer based in the San Francisco area with clients in the porn industry. "The allegedly most powerful man in the world is dancing to the tune played by Stormy."
Those who know Daniels, 38, say they aren't surprised. She is viewed as ambitious and resilient in the porn industry, where she rose from actress to director of dozens of films. In 2016, she won industry awards for "Wanted," a three-hour western that she wrote, directed and starred in.
"She did a lot of things that most porn stars don't do," said Kevin Blatt, a broker of celebrity sex tapes. "They don't graduate to that point of directing and taking control of their own careers. They're usually manipulated and exploited, chewed up and spit out."
Daniels herself described her role in the porn world earlier this week, in a podcast hosted by erotic photographer Holly Randall. "I've written and directed all of my own movies for the last 10 years because I am a control freak," Daniels said. "Or is it because, if you want something done right, you do it yourself? Or is it because I wanted to get paid double for the day? The correct answer is 'D,' all of the above."
That assertiveness contrasts with the silence that was required of Daniels in the deal she was negotiating in late 2016 with Trump's attorney, Michael Cohen.
"She was kind of in a predicament," said Slate editor Jacob Weisberg, who spoke with her during that time. "There was a deal being worked out in which she could get money, which she wanted, but it wasn't working out as she expected, and she didn't know who to trust or what to do."
What she decided to do, days before the 2016 election, was take the deal.
Cohen said Friday that the funds for the $130,000 payment came from his own home equity line of credit, a claim first reported by ABC News. Mortgage records show Cohen opened a line of credit for up to $500,000 in February of that year on his Manhattan condo.
The agreement names four people Daniels said she had told about the alleged affair: representative Gina Rodriguez, friend Keith Munyan, ex-husband Mike Mosney and porn actress Angel Ryan. Ryan, who goes by the stage name Jessica Drake, accused Trump before the election of forcibly kissing her and two friends a decade earlier, during the same Lake Tahoe golf tournament where he met Daniels.
Trump has denied misconduct with women, and his campaign called Drake's allegations "totally false and ridiculous."
The deal remained secret for more than a year. It leaked on Jan. 12, in a story published by the Wall Street Journal.
Soon, Daniels was speaking out, though coyly at first.
"You can't say whether you have a nondisclosure agreement," observed late-night talk show host Jimmy Kimmel during a Jan. 30 interview in which Daniels gave up little information. "But if you didn't have a nondisclosure agreement, you most certainly could say, 'I don't have a nondisclosure agreement,' yes?" he asked.
"You're so smart, Jimmy!" Daniels responded.
The agreement calls for binding and confidential arbitration in the event of a dispute. (Despite its language, there has been no credible claim of Trump fathering children beyond the five he is known to have.)
On Feb. 27, Cohen enacted that provision. Within hours, the arbitrator issued a temporary restraining order barring Daniels from talking about the deal, catching her by surprise, Avenatti said.
On Tuesday, Daniels forced the matter fully into the public domain with the lawsuit she and Avenatti filed in Los Angeles Superior Court. Though she has never suggested her relationship with Trump was anything other than consensual, the lawsuit links Daniels to the parade of women who accused him of sexual