Spy poisoning: Military deployed in Salisbury as police investigate graveyard
Police believe Sergei Skripal, his daughter and a policeman may have been "contaminated" at the former spy's house in Salisbury.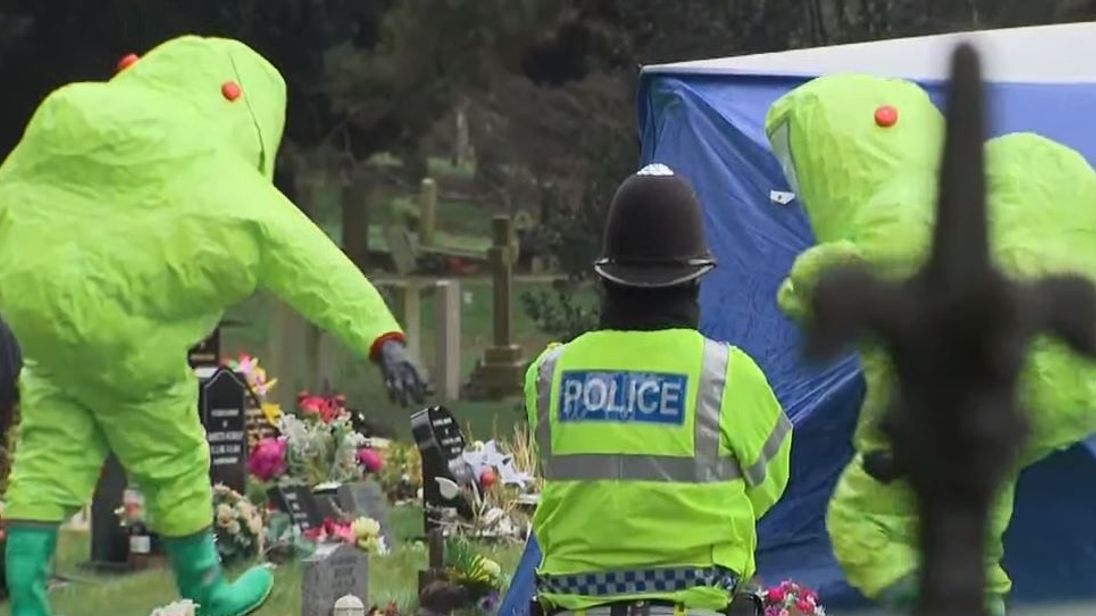 Police in forensic suits examine a cemetery in Salisbury
The military has been deployed to help police investigating the poisoning of a former Russian spy and his daughter, as attention moved to the burial site of his wife and son.
Around 180 troops, including Royal Marines, RAF personnel and chemical specialists, were deployed in Salisbury following the nerve agent attack on Sergei Skripal and his daughter Yulia.
Scotland Yard requested specialist help to remove vehicles and objects from scenes across the city amid fears of contamination.
Home Secretary Amber Rudd will chair the Government's emergency Cobra meeting on Saturday to be updated on the investigation.
Officers in hazmat suits were sent to Salisbury's London Road cemetery, where a tent was erected over the memorial to Mr Skripal's son Alexander, who was cremated last year.
Officers also sealed off the gravestone of Mr Skripal's wife Liudmila, who was buried there in 2012.
Police say their deaths are part of the investigation into the poisoning of Mr Skripal and his daughter Yulia, who were found slumped on a park bench in Salisbury on Sunday evening.
:: Poisoned spy's friend: He was lonely after his son and wife died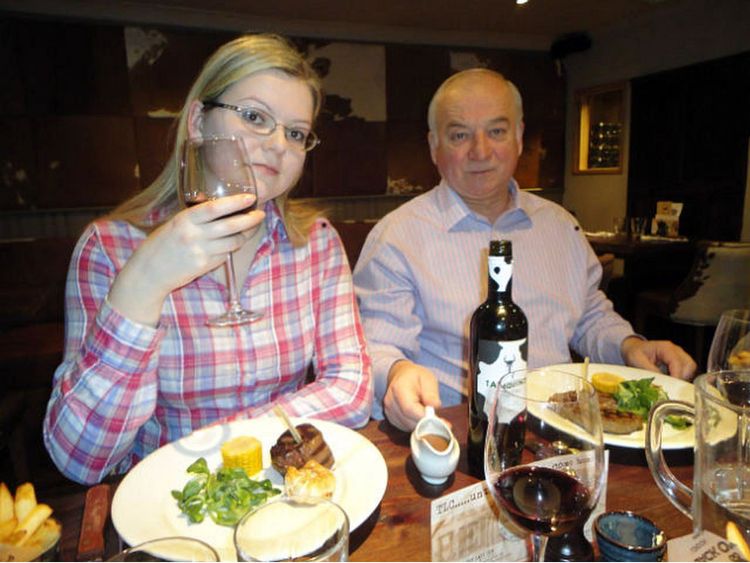 Sergei Skripal and Yulia Skripal are in a serious condition
They remain in a serious condition in hospital, along with Detective Sergeant Nick Bailey who was also exposed to the nerve agent.
Sky News Crime Correspondent Martin Brunt said police believe all three victims may have been contaminated at Mr Skripal's house in Salisbury and "ingested the poison some hours before they were taken ill".
A convoy of military vehicles rolled into the car park at Salisbury District Hospital on Friday to recover a police vehicle.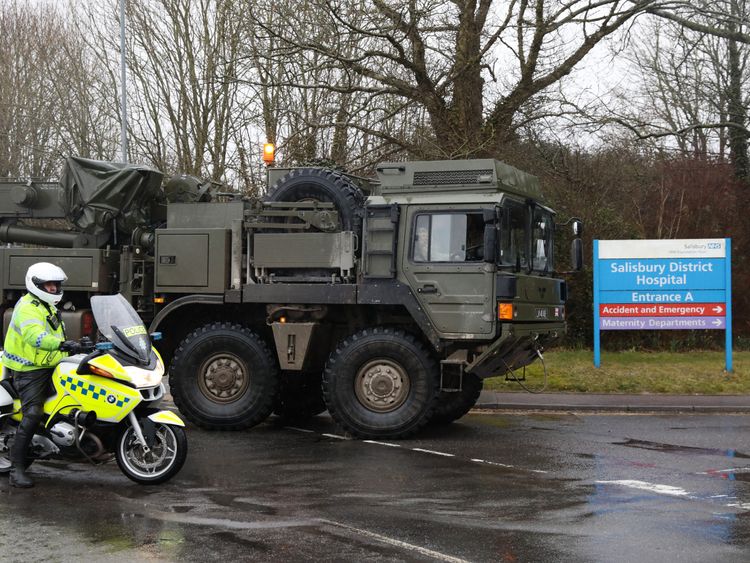 A military truck arrives at Salisbury District Hospital
Mrs Rudd, who visited the city centre and hospital where DS Bailey is being treated, warned the Government was "committed to doing all we can to bring the perpetrators to justice - whoever they are and wherever they may be".
Russia's foreign minister said the country would consider helping UK authorities investigate the poisoning after the Kremlin denied involvement.
Wiltshire Police Assistant Chief Constable Kier Pritchard and Amber Rudd in Salisbury
Sergei Lavrov seemed to resent suggestions that Moscow was behind the nerve agent attack on the Skripals, calling such claims "propaganda".
Skripal served four years of a 13 year sentence in Russia after he was caught spying for MI6 and was released as part of a spy exchange in 2010, when he was given refuge in the UK.
The circumstances of the attack, and its echoes of the fatal poisoning of Alexander Litvinenko in 2006, have prompted questions over the Government's response if the evidence points to a state-sponsored assassination plot.